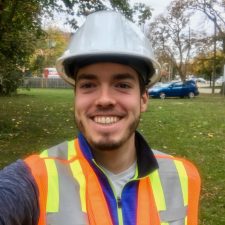 As a professional GIS Analyst and UAV/Drone operator located in Ontario, I have extensive work experience providing my detailed skills and insight to various industry sectors including municipalities, government organizations, mining sector, environmental, utilities, transportation, and many others.
My professional education includes:
Certified Engineering Technologist from Ontario Association of Certified Engineering Technicians and Technologists (OACETT)
Honours Bachelor of Arts Majoring in Physical Geography with a Minor in Geomatics from Carleton University
Post-Graduate Certificate in Geographic Information Systems (GIS) from Algonquin College
In my career I have worked on detailed GIS projects including:
Geospatial analysis of water well data for mining sectors and waste management services for the purpose of regulatory filing
Interpretation of ortho-areial imagery and topographical data collected from UAV flights conducted during onsite field studies
Preparation of detailed spatial information to be used for Record of Site Conditions and Environmental Phase I & II studies
Onsite field surveying of new water monitoring wells and site boundary and feature creation using RTK GPS systems
Online map creation for a company involving data collected in High Arctic studies
I currently hold an Advanced RPAS Operating Certificate to operate safely under the Transport Canada rules.
One of my proudest accomplishments was to be co-author on "Analysis of scallops in Gomantong Caves, by GIS processing of 3D terrestrial laser scanner data" which was published in the Speleothem 2017 Conference Proceedings Journal . This involved developing a process to be used to analyze LIDAR data collected within the Gomontang Cave on the Island of Borneo, Sabah, Malaysia. The process involved identifying cave rock formations called scallops to identify water flow direction from millions of years ago.