Drone Technology and COVID-19: Expect Fast Developments As Acceleration Occurs
It's a different and dramatic world with things moving at a furious pace.
Last Friday, we noted that we would see an increasing role of drone technology – particularly with food, medicine and more. We also made note of the likely use of this technology as healthcare groups and hospitals establish testing facilities that are removed from the rest of the physical location, i.e. parking lots.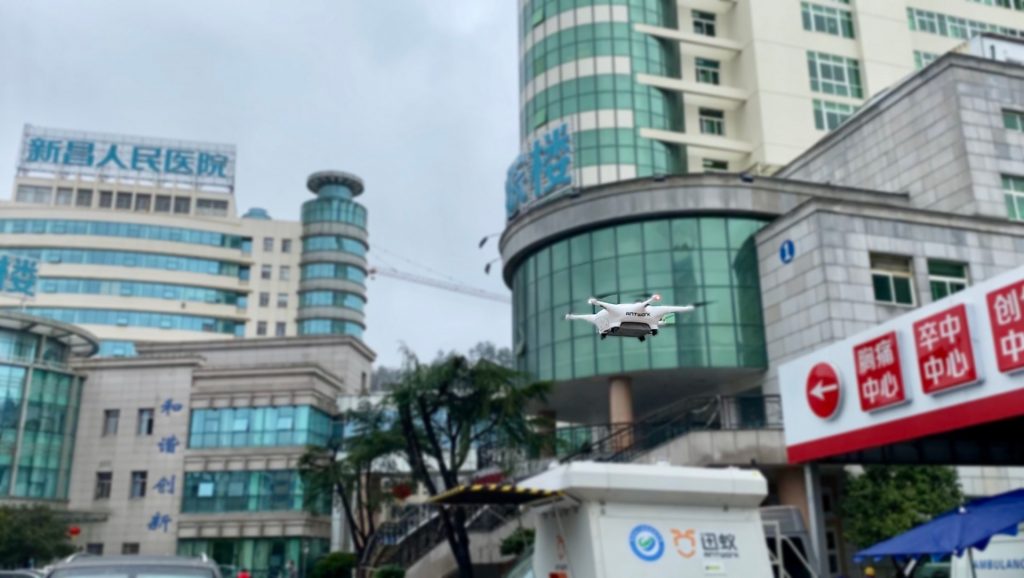 With that in mind, our newsfeed shared this article with us today:
Drone delivery startup lifts off early with medical samples
March 2020, iCrowdNewswire
As doctors in Xinchang County, Zhejiang test patients for COVID-19, they're using a tool borrowed from the Jetsons: flying robots are helping them move testing samples and supplies faster than they could go on roads.

The semi-rural county offers a preview of a world many expect to live in soon. People have talked about airborne deliveries for years. With the COVID-19 crisis, the players are lining up to make it happen.

When doctors at the People's Hospital need to send a sample for testing, they go to an Antwork landing pad. At the tap of a smartphone, a heavy six-bladed drone lifts off, carrying a briefcase-sized payload on the approximately 2.5 mile trip to the local public health testing center.

Antwork, a Hangzhou-based startup, has put its drone logistics system into practice a few months ahead of schedule to deliver nucleic acid testing samples between two hospitals to local public health authorities in Xinchang county.

In the wake of the highly infectious illness, Chinese tech companies, especially takeaway and on-demand service platforms, have proposed a "contactless delivery" initiative, appealing to food delivery drivers or couriers to avoid direct contact with customers.
You can access the full article here.
Note the specific application to healthcare:
The Xinchang county network, which was first put into use in early February, skips the cars and flies parcels directly to stations placed on hospital grounds.
The company was already planning to start with hospitals. "We were planning to launch the drone logistics system for commercial medical uses later this year anyway, but the epidemic outbreak has pushed us to put it into real-life use now," Zhao Liang, co-founder and chief operating officer of Antwork, told TechNode.

The company said in a statement (in Chinese) that the system it set up in Xinchang county delivers medical supplies and nucleic acid testing kits between two downtown locations and one satellite town.

The company said in the statement that the initial flights showed that the system saved more than half of the time needed to deliver using ground transport.
Here at LI&D, we believe this is a sufficiently important future application, and invite you to share it with those you know in government, the medical community, first responders and more.